Calgary to Ponta Delgada, Azores | $635 roundtrip including taxes
SATA has dropped the price of their flights from Calgary to Ponta Delgada, Azores (PDL) for January through April 2015 travel down to $635 roundtrip including taxes, which is the cheapest I've ever seen it.
Don't worry if you have no clue where the Azores are. Nobody does. Even Google Flights has trouble.
Here's a map: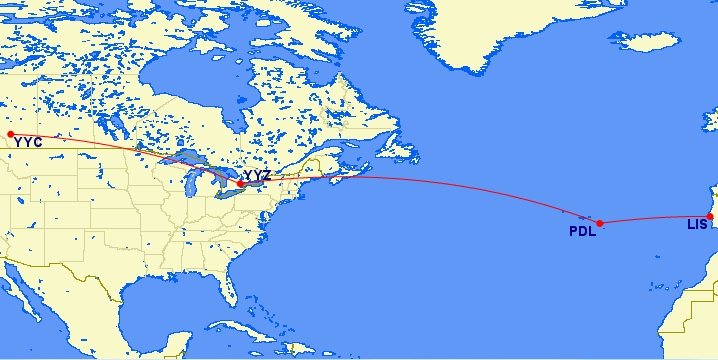 The Azores are a group of 9 islands in the Atlantic, on the way over to Europe. If you kept flying for a few hours past the Azores, you would eventually reach Portugal, the country that the Azores belong to. On the map above, PDL stands for Ponta Delgada, the capital of the Azores, on the island of Sao Miguel (the largest island).
The reason these flights are so cheap is due to the Toronto to Ponta Delgada leg of the journey on SATA, which occasionally drops to ridiculous prices, sometimes even below $300 roundtrip, like it is right now.
The legs between Calgary and Toronto are on WestJet. Even though Calgary to Toronto generally costs a minimum of $550 roundtrip, it only costs $80 more to fly the extra *9,000 km* from Toronto to the Azores and back!
But even from Toronto, these flights are still a hidden Canadian travel deal gem, although some travelers in the YYZ Deals Facebook Group have been discovering the Azores as of late, and reporting back. More on that later.
Are the Azores for me?
I'll start off by saying that the Azores are not for everyone. But in some ways, this contributes to what makes them even more appealing to a certain type of traveler. I had the opportunity to visit the Azores in 2013, on these same SATA flights. Here is my honest assessment of what I thought of the Azores, including both the pros and cons:
- My trip to the Azores was what I felt to be perhaps the most 'authentic' travel experience I've had in a long time, perhaps ever. By that I mean there were hardly any other tourists, and certainly no large tour groups. Nobody tried to sell me a single thing. For the first time in a long time, I felt like I had traveled somewhere off the tourist radar.
- By the same token, the Azores are best suited for the more independent traveler. Public transportation & tours are very limited, and you really do need a car to see most things on Sao Miguel island. Driving is easy and safe.
- There are some pretty cool natural sights, and interesting caldeiras (collapsed volcanoes) that you can easily hike around on the island, such as Lagoa do Fogo...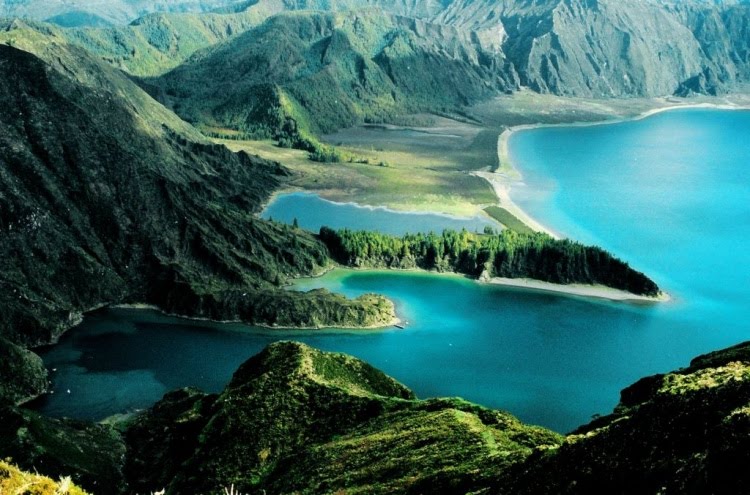 The area around the town of Furnas has a lot of geothermal activity, including hot springs in natural and semi-natural settings...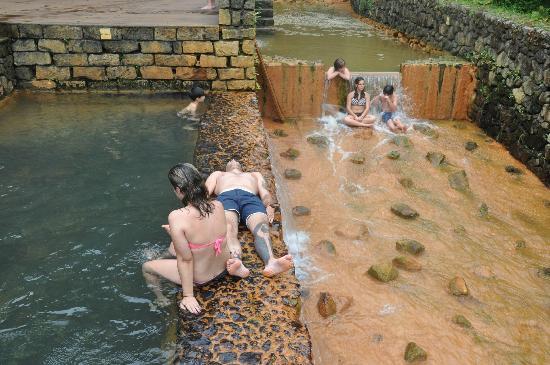 - The Azores are known for being one of the best whale watching spots in the world. Spring & summer are generally the best time for viewing most species. Dolphins are also common.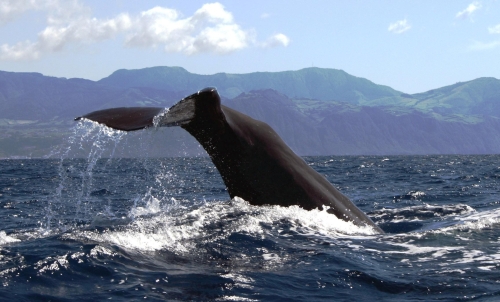 - I wouldn't say restaurants are a strength of the Azores. I found a few good meals, but overall I wasn't a huge fan of the local delicacies. If you really like seafood, you might beg to differ.
- The locals are very warm and genuine. The Azores are one of the safest places in the world, with virtually no crime. People speak Portuguese, but like most everywhere, you can get by with simple English and polite gestures.
- There aren't really many sandy beaches and the water isn't overly warm (although you can still swim in it). The climate is pretty temperate throughout much of the year, and not quite what you would consider tropical (although things are very, very, green). This has likely contributed to keeping the Azores from being developed and spared them from commercial tourism.
- I remember thinking prices were pretty reasonable for most everything. Certainly cheaper than mainland Europe.
Ok, how do I find and book these flights ?
1. Go to the SATA website
2. Search for a flight from Calgary (YYC) to Ponta Delgada (PDL)
Dates: These $635 roundtrip prices (including taxes) can be found on a variety of dates, between January 2015 and early May 2015. Look for the flights that are around $300 something each way. My advice would be to focus on mid to late April if you can, for warmer weather (typical highs of 17C-19C) and better whale watching.
You should also focus on dates where you are departing on a Sunday, and returning on a Wednesday. On the quickest flights, the Azores are surprisingly easy to get to from Calgary, with just 1 stop each way in Toronto. But on a high percentage of dates, an overnight layover in Toronto is required. Searching for Sunday to Wednesday dates helps focus on flights that don't require an overnight layover.
As an example, let's search for April 12 to 22. The flights have a 2 hour, 2 minute connection in Toronto on the way there, and 3 hours, 15 minutes on the way back. I think this is about as ideal as it gets from Calgary to the Azores.
3. IMPORTANT: The cheapest prices on SATA are in their 'Light' fare class. This fare class does not include any checked bags, just 1 piece of carry-on hand baggage (8kg or 17 lbs).
The next fare class up, the 'Smart' fare class, does include 1 piece of checked luggage (23kg or 50 lbs) but also costs $130 more each way!
The extra $260 for traveling with checked luggage is a significant increase, so this deal may not appeal to those that do not travel lightly.
4. Continue with your booking on the SATA website

What about the other islands in the Azores?
The Azores are made up of 9 islands. On my 10 day trip I visited 4 of them (Sao Miguel, Pico, Faial, and Terceira). You can find SATA flights between most of the islands (they are the only airline in the Azores, but fares are actually pretty reasonable, considering the monopoly!)
A lot of the flights to other islands connect through Ponta Delgada (PDL), which is by far the largest town in the Azores. There are also ferries that run between some of the islands.
I would definitely recommend trying to visit at least one of the other islands if you can. They all have interesting things on them. Some of them are so small you only need 24 hours to visit.
Visiting 2 more islands for the price of one
You can also *sometimes* find multi-city flight deals on SATA that allow you to book flights with really long stopovers on a second island, for a price that is about the same as booking a regular roundtrip.
For example, on my trip, I booked an additional roundtrip flight from Ponta Delgada (PDL) to Pico (PIX) and back to Ponta Delgada, that also included a 24 hour layover on Terceira island (TER) on my way back to Ponta Delgada. I was able to visit 2 additional islands (Pico and Terceira) for a pretty reasonable price of around $200 after taxes.
For an example of what I'm talking about, try a search like this on Kayak...
Ponta Delgada to Pico, roundtrip, with an 22 layover on Terceira
http://www.ca.kayak.com/flights/PDL-PIX/2015-04-15/2015-04-19
- When you get to Kayak, click on the 'Sort By' box, and change it to: 'Sort by duration, longer to shorter'


- Look at the third flight, which is nonstop to Pico (50 minute flight), and has a 22 hour layover in Terceira on the way back to Ponta Delgada.

- Hit the 'Select' button and click through from Kayak to one of their booking partners to book. If you choose 'Kayak' as the booking partner, you'll actually be booking through Priceline.
- For some reason, SATA does not display these flights on their own website, presumably because they don't want to show you options with really long layovers, but in this case, they're an advantage!
- You could also try playing around with flights to the other islands using Kayak, to see what you can find. Here's the complete list:
PDL: Ponta Delgada, Sao Miguel
PIX: Pico island
TER: Terceira island
FLW: Flores island
HOR: Horta island
SJZ: Sao Jorge island
SMA: Santa Maria island
GRW: Graciosa island
PXO: Porto Santo island
Where to stay, what to see
I stayed at a combination of small hotels and AirBNB rentals when I went. Overall I found the accommodation prices to be pretty reasonable. One of my favorite AirBNB stays of all time was in the Azores, at AirBNB 277190. Looks like Carla still gets great reviews. $36 CAD for a house and view like that!

Here's my Google map of the Azores, including places I considered staying, things I wanted to see on the various islands, and where all the various ferry ports and airports are located. You may need to zoom in quite a bit, as there are a lot of icons, and some of the islands are pretty small.
For further info, you may want to read some of the trip reports from people in the YYZ Deals Facebook Group that have been taking advantage of these SATA flights to the Azores.
Avi's trip report in particular has some great info: https://www.facebook.com/groups/yyzdeals/permalink/10152962357728968/
How long will this deal last?
As always, one never really knows. A sudden surge in demand can drive the prices up, depending on how many cheap seats that SATA has allotted. I have seen SATA drop their Toronto to Azores flights quite often in the past 6 months, which is the reason for these cheap flights from Calgary.
But including the connecting flights from Calgary on WestJet, this is the first time I've seen the total price drop anywhere near this low, and is a very unusual price. For comparison, I paid $950 in 2013 for an October flight, and that was a pretty great price at the time!
For live discussion of this deal, or to get some amazing travel advice from over 10,600 travel junkies in Calgary, join the YYC Deals Facebook Group.
Hit Like if you like this deal! Click Share to show your friends on Facebook.
People That Liked This Page Also Liked:
| | |
| --- | --- |
| | You may also want to check out pages that were tagged with: |
| | |
Be The First To Know About The Next Amazing Deal!
Head to the
YYC Deals Alerts Page
where you can choose to be notified by e-mail, Facebook, Twitter, or RSS Feed the moment an amazing travel deal from Calgary is found.
Setting up alerts allows you to be one of the first to see a new deal, before it sells out.
And don't worry, alerts are only sent when it's truly an amazing deal.
Like Our Site? Follow Us!
Comments from Facebookers
Comments from Everyone Else