About half way back to normal - 100,000 pass through Canadian airports in a single day for the first time since the pandemic began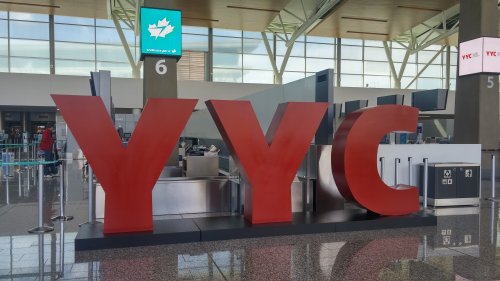 For the first time since the beginning of the pandemic, 50,000 travellers passed through screening at Canadian airports in a single day.
50,913 travellers (the total of Canada's 15 largest airports) passed through airport screening on July 4th, 2021, at the tail end of the Canada Day long weekend.
The last time there were more than 50,000 flying in a single day ? March 17th, 2020. (5 days after the NHL suspended its season).
So what is 'normal' ? Prior to the pandemic, 150,000 to 175,000 travellers passing through Canada's airports in a single day would be a typical number on most days of the year.
This would balloon to somewhere in the 180,000 to 200,000 range during holiday periods and over the busier July/August summer travel season.
50,000 travellers on the Sunday of Canada Day Long Weekend equates to roughly 25% of normal levels for a pre-pandemic Canada Day Long Weekend.
25% of normal you say. That's it? That's something to note?
Well, compared to what we've seen since the start of the pandemic, over 475 days ago, it's a pretty big deal for Canada's airports.
Having glanced at the screened passenger data over at CATSA more than a few times during the pandemic, I can tell you that Canadian airports have been operating at a consistent '10% of normal' levels during nearly all of the last 475 days (except around Christmas 2020 when it was closer to 20%).
Canadian airports have been ghost towns for about 16 months now.
This started to change in mid June, just over a few weeks ago, as numbers climbed up to '15% of normal' around June 21st.
And then another large increase over the next 10 days, when passenger levels climbed to 20-25% of normal levels for the July long weekend.
Will Canadian airports be back to 30%-40% of normal levels in July / August ?
50% by September / October?
Something tells me Canadian airport traffic numbers are going to be rising almost as fast as our fully vaccinated numbers over the next few months.
Down in the U.S., our large neighbour to the south has had about a 3-4 month head start on us with their return to the skies.
How's that going? Well, according to TSA numbers, they are back to roughly 75-80% of normal airport traffic levels, with some of their July 4th long weekend days actually exceeding pre-pandemic numbers.


YYC is getting busier, so give yourself more time than you might think...
Article: YYC Airport: Give yourself plenty of time (as in, 3 hours for domestic travel)


Update August 2nd, 2021 - More than 75,000 passengers passed through Canada's airports over the August long weekend (~76,000 on both the Friday and Sunday). This is approximately 35% of normal levels. It took almost exactly one month for airport traffic levels to increase by 10%.


Update October 13, 2021 - More than 100,000 passengers passed through Canada's airports in a single day over the Thanksgiving holiday (Friday October 8th). This is approximately 50% of normal levels. Overall I would say Canada is now approximately 45-47% of normal levels. It took about 2 months to rise 12% since the August long weekend.



People That Liked This Page Also Liked:
| | |
| --- | --- |
| | You may also want to check out pages that were tagged with: |
| | |
Be The First To Know About The Next Amazing Deal!
Head to the
YYC Deals Alerts Page
where you can choose to be notified by e-mail, Facebook, Twitter, or RSS Feed the moment an amazing travel deal from Calgary is found.
Setting up alerts allows you to be one of the first to see a new deal, before it sells out.
And don't worry, alerts are only sent when it's truly an amazing deal.
Like Our Site? Follow Us!
Comments from Facebookers
Comments from Everyone Else